Styled Engagement Shoot from Insight Creative
11 October 2012
No Comment
Let the talent run free with their creative energy and you're bound to end up with something sparkly fresh. This woodsy wonderland was delivered to us via Insight Creative and I cannot help but to feel giddy over every original detail. The floral arrangements by Townsville Flower Market seem as though they are home to the woods and the stunning styling by Carbine Avenue is spot on in embracing the rustic surroundings. Head over the river and through the woods to the full gallery here.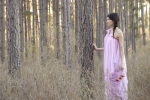 SEE THE FULL GALLERY >>
Click here for the FULL photo shoot!
From Insight Creative… We are preparing to hold our third Make Believe Wedding event in sunny North Queensland, Australia on October 20 — just a couple of weeks away! This event originally started as a huge inspiration shoot with 18 local suppliers involved in staging a fake wedding with all the trimmings — the last shoot was featured on Style Me Pretty a few months ago. This time around, we have also added a public event that will be held in the evening so that brides-to-be can come along and see the entire shoot in action — plus view all the styling and floral ideas, taste the cake, enjoy the canapes, toast the bride and groom and dance the night away! Our fake bride and groom this year are Johnny and June. This is their "story" and their lovely engagement shoot….
Johnny and June met whilst hiking in the woods. June rolled her ankle and was found by Johnny, who gallantly carried her home. After talking for many hours, sparks flew and their romance flourished. They like to make special things for each other — Johnny creates beautiful timber furniture pieces, and June loves to bake his favorite blackberry pie.
Photography: Insight Creative / Styling: Carbine Avenue / Floral Design: Townsville Flower Market / Cinematography: Jepson Media / Sweets + Cakes: Paper and String / Dress: Katelyn Aslett / Jewelry: Kim Bartlett Master Jewellers / Hair: Tiki On Ackers / Makeup: Boheme Beauty / Shoes + Groom's Attire: Models' Own
© Style Me Pretty : The Ultimate Wedding Blog, 2012. |
Permalink |
Comments |
Add to
del.icio.us

Post tags: Boheme Beauty, Carbine Avenue, Insight Creative, Jepson Media, Katelyn Aslett, Kim Bartlett Master Jewellers, Paper and String, Photo Shoot, Tiki on Ackers, Townsvill Flower Market
Post categories: Australia Weddings, Engagement Session, Queensland